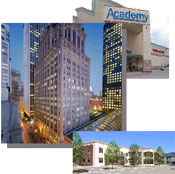 INVESTMENTS – We not only advise investors on investment real estate, but participate as partners in ownership.
BROKERAGE – We represent the interests of real estate investors dealing in income property, providing complete transaction management for those without "in-house" acquisitions/dispositions teams- including management of all phases of the investment from valuation and negotiations to arranging financing, escrow management and transaction settlement.
DEVELOPMENT – We create value in property through development of office and retail projects after careful consideration of macro and micro market conditions, supply, and demand. From opportunity identification to project completion, we manage all aspects including design, financing, construction, leasing and stabilization.